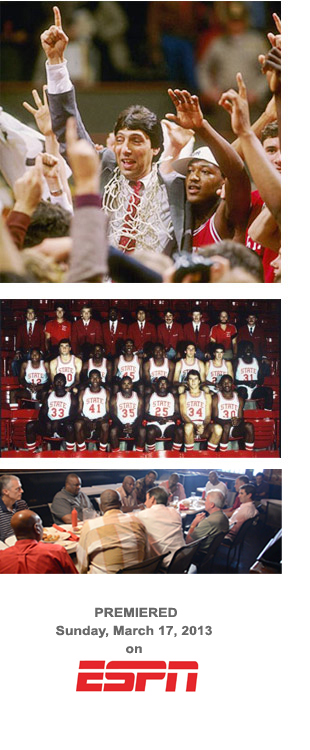 Survive and Advance
Directed by Jonathan Hock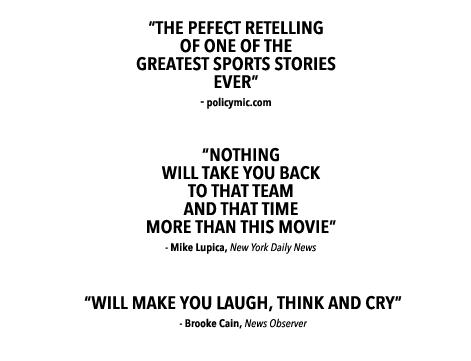 The Untold Story of the 1983 NC State Wolfpack and The Greatest Championship Run in College Basketball History.

Raleigh, North Carolina. June 2011. A graying man, sturdy and strong if just a bit rounded in the middle, is alone in his car. His name is Dereck Whittenburg, and he is headed to the funeral of an old friend. The friend is Lorenzo Charles - someone he hadn't seen much in the 30-odd years since they were teammates, but someone with whom he is forever linked in the hearts and the memories of college basketball fans.

The camera holds on Dereck's huge hands on the wheel, then pans up to his sensitive eyes. Dereck had always been a dreamer, his belief in himself too strong to even realize that he'd actually been an underdog all along. Lorenzo had looked up to Dereck, bought into Dereck's dreams, too young and naive to know better. And their coach, Jim Valvano, had been the greatest basketball dreamer of all. Nearly 30 years had passed since the three of them had come together to make the ultimate dream come true. But Jimmy V was long gone, and now Lorenzo was gone, too, killed when a bus he was driving wrecked on the interstate. So today, Dereck is feeling very much alone. But today, he is starting a new journey of his own. After three decades, he needs to tell his story: the tale of one final perfect moment, the impossible championship run that set it up, and the season that proved that the greatest teams are built not on expectations, but on dreams. He would do it for Lorenzo, for Jimmy V, for himself.


It is to this day the most spectacular 44 seconds in college basketball. The moment that turned what had been known simply as "The NCAA Men's College Basketball Tournament" into a phenomenon called "March Madness."

NC State has the ball, Houston swarming on defense anchored by Akeem Olajuwon in the paint. Score tied 52-52, the NCAA Championship hanging in the balance. Sidney Lowe gets it to Thurl Bailey at his spot on the baseline, but Thurl has Olajuwon staring him down, and passes up the shot. He throws it out to Whittenburg, the captain and long-range shooting ace. Out of nowhere, Houston's Benny Anders knocks the ball away. It's going to be a breakaway dunk by college's most spectacular dunker to win the game... but Whittenburg extends his arms - reaching with both hands, the way his hall of fame high school coach Morgan Wootten taught him- and recovers the ball. Now only a heartbeat of time remains, and Whittenburg whirls and throws up a 30-foot... is it a shot? a pass?.... Whatever it is, it is falling short of the rim.

Surely Olajuwon will grab it - he already has 18 rebounds in the game. But Olajuwon had started upcourt when it looked like Anders stole the ball, and now he is out of position. Also out of position is State's sophomore forward Lorenzo Charles - what is he doing standing right under the rim? Everyone else is frozen, feet on the floor, just watching. Now time seemingly slows to half-speed as the high arching ball tumbles down from the rafters. The arena falls silent. Now Charles and Charles alone rises to meet the ball... calmly, almost serenely... he catches it, and in a single motion he effortlessly dunks it through the hoop. For an instant, no one realizes what just happened. Then time speeds back up to normal. Sound returns in a frenzy. The referees are running into the tunnel and the coach is running around the court, looking for someone to hug, his face fixed in an expression that seems to contain every human emotion at once. It couldn't have possibly happened, but it did. The 1983 NC State Wolfpack are the national champions.

Premiered Sunday, March 17, 2013 on ESPN